The oven is one of the most used appliances in your home, it is almost always in daily demand. It is often the focal point of the kitchen, whether you have a range style or eye-level style oven.
As the oven is a high-demand appliance cleaning is very important. However, a lot of people forget the last time their oven was cleaned; leaving you with an oven that isn't heating up correctly, leaving your food tasting bad and leaving your home with a nasty smell.
This guide will give you 5 points on how you will know if your oven is due for a clean:
When was your oven last cleaned?
The temperature of your oven
Is there smoke when you open the door?
Can you see dirt?
Can you see what you're cooking?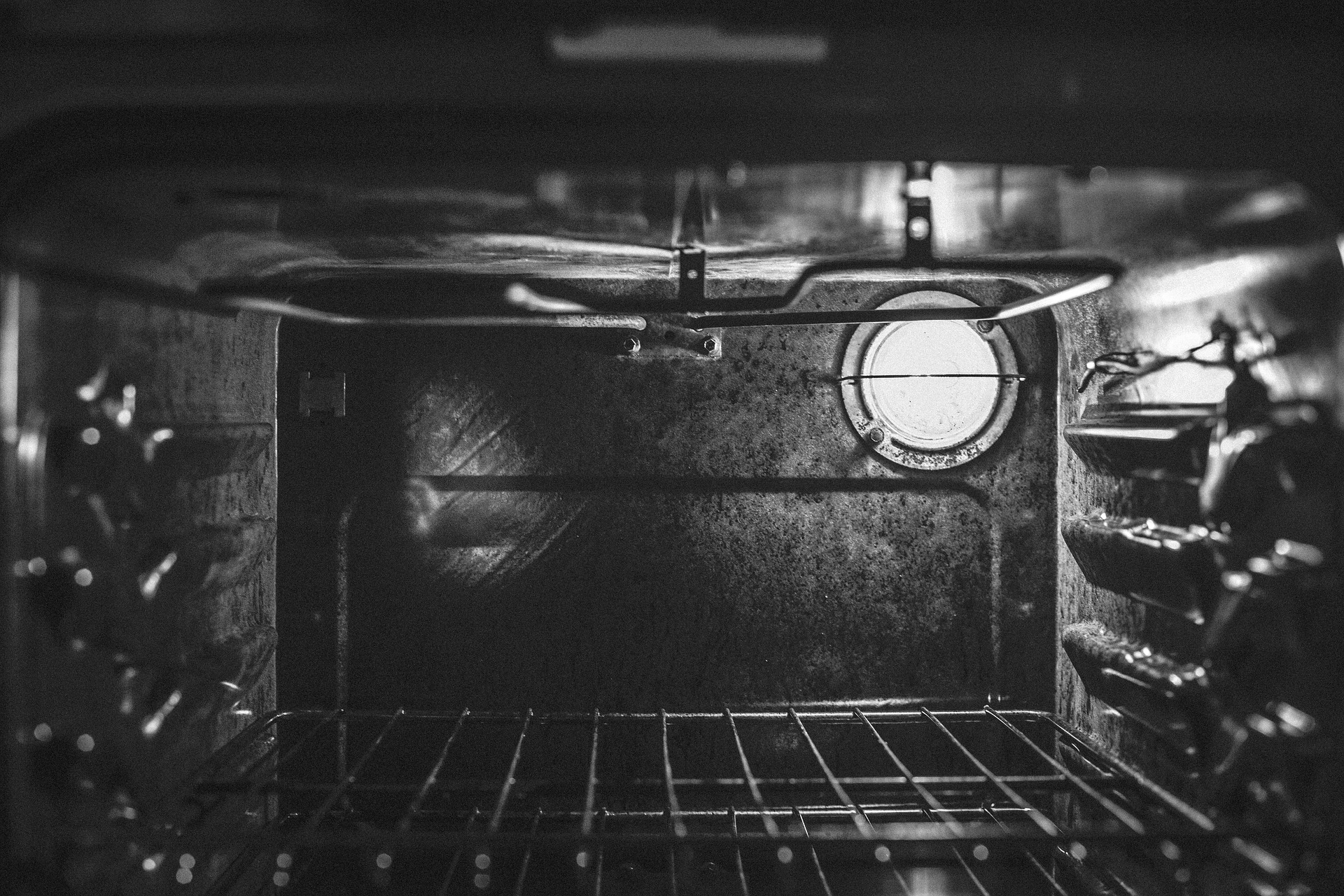 When was your oven last cleaned?
If you are unable to answer this question, then your oven is most likely due a clean. At a minimum, Sussex Oven Cleaning recommend that an oven is cleaned at a minimum of 6 monthly intervals. If you know that it has been longer than this, we advise that you make plans on either getting a professional oven cleaning company to clean your oven, or to check out our How To Guide on cleaning an oven yourself.
Leaving your oven for a year or two without cleaning is too long, make sure you pop it in your online calendar for a 6 monthly reminder to clean the oven – or even put a note on the fridge to remind
The temperature of your oven
An indication of your oven needing a good clean is if the oven takes a long time to get up to temperature or failing to reach higher temperatures. This may also be an indicator of a larger problem with your oven but before you call an engineer out or invest in a new oven make sure it is given a thorough clean!
Is there smoke when you open the door?
When opening the door of your oven that has been heated to temperature and are met with a blast of nasty smoke, this is a clear sign that the oven needs a thorough clean. When cooking it is not uncommon to spill oil, foods and fats into the oven. Without cleaning the oven after these spills, they will carry on cooking every time the oven is used, becoming more burnt on and creating smoke. Not only is it unpleasant, it can also make your home smell and add a horrible flavour to your food.
When you open your door can you visibly see if it is dirty? If you can see grease and a carbon coating on your oven shelves or trays, then the inside of your oven needs a clean. Most oven surfaces are enamel on the inside and should be nice and shiny. Your oven shelves most likely should have a nice chrome finish and trays that came with your oven should again be clean, if not then it needs to be cleaned. If they are not cleaned then this can affect how your oven works, the taste of food being cooked in the oven and it will create a smoky and unpleasant kitchen space.
Can you see what you're cooking?
If your oven has a glass door then you should be able to look through and see what you are cooking. If you can't see what your cooking because the oven door is covered in grease and carbon or the oven has a mist or dirt on the inside of the oven door, then it is time to have it cleaned.
A professional oven cleaner like Sussex Oven Cleaning will be able to dismantle most oven doors and clean between the panes of glass and remove all traces of built up grease and carbon. Alternatively, have a look at our guide on how to clean your oven door.
Conclusion
This guide has looked through 5 simple points on how to know if your oven needs a clean. If any of these points apply to you then make the appropriate places to either getting your oven professionally cleaned or have a thorough clean of it yourself.
If you are looking for a professional service, Sussex Oven Cleaning provide a professional personal service. We use non-toxic environmentally friendly products in your home, we provide a thorough clean inside and out of your oven, with the aim to leave your oven in show room condition. Sussex Oven Cleaning is Which? Trusted Traders, giving you peace of mind that SOC are professional and trusted amongst all customers.